So Many Lamps and Shades, So Little Time
A lamp should make a statement about you and the room you're decorating. But with so many types and styles, how do you find the perfect one?
When choosing a lamp and shade, ask yourself:
Do you want a floor or table lamp, or both?
o When choosing a table lamp, the base and the shade need to be in proportion to each other and to the rest of the furniture in the room. The shade should be at eye level when you're seated, and the bulb shouldn't be visible.
o A floor lamp usually provides adjustable light and takes up little floor space.
What kind of shade is needed?
o A shade can make or break the appearance of a lamp. When choosing a shade, never let the shade dwarf the lamp.
o Shades are available in many shapes, colours, textures and sizes. A transparent shade adds the maximum amount of light to a room. An opaque shade will focus light downward for task lighting.
Where Do You Need a Lamp? To make rooms interesting, vary the height of the lamps throughout the room. The differing heights add depth and interest by creating separate areas of light and shade. If you want to cut the cost of energy, cut back on the number of individual lamps in your home and focus on task lighting. Task lighting is needed for reading, writing, cooking and grooming. It also: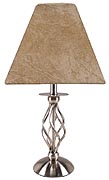 * Requires a bulb of 60 watts or more to be most effective. Experiment until you find a light level that is comfortable for you.
Should be three to four times brighter than the surrounding light to reduce eyestrain.

Focuses the light on the primary task performed in each room.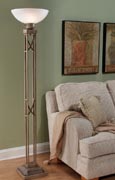 SAFETY NOTE: Never use a higher wattage bulb than is recommended in the fixture.