An entire industry exists to make homes safer for children. Shelves of books have been written on the topic, and professional baby-proofers make in-home consultations every day. The sheer number and variety of products available can make it a daunting task to prepare your home for a resident (or visiting) baby or toddler.
Introduction The best place to start is at the baby's level: Get down on your hands and knees and view the room from the little one's vantage point. See which furniture has sharp corners, notice which heavy objects could easily be pulled down from their perches, spy uncovered electrical sockets and cords that practically beg to be tugged and chewed.
A complete list of baby-proofing items would fill an entire catalogue, but look for these basics as a starting point for your baby-proofing project. After they are in place, do another "crawl-through" to find special trouble spots you might have missed.
Gates Gates keep baby in as well as out, depending on where they are used. They block off staircases, keep little ones from wandering into dangerous areas, and make sure pets and children stay separated.
Baby gates have a variety of latch mechanisms made to work for adults' hands but not for children's. When shopping for a gate, study the latch carefully to make sure you will be able to open it easily when moving around your house carrying everyday items - or the baby. If the gate is too difficult to open, you might often be tempted to step over it, leading to an increased chance of falls. Many gates offer one-handed opening mechanisms.
Some gates are built of wooden, metal or plastic slats, others of mesh or plastic. Make sure the gate's design and materials do not provide footholds for little climbers or dangerous spaces that could trap a head or pinch a finger.
Baby gates come in two basic styles: pressure and hardware-mounted.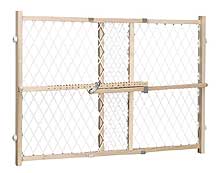 Pressure gates are easily portable from one doorway to another.
Pressure gates:
Attach to a doorway using outward tension.

Are easily portable from one doorway to another.

Can sometimes be knocked down by a few hard blows. (Not as suitable for older toddlers or houses with large, rambunctious pets.)

Come in sizes that fit most doorways.

Should not be used at the top of stairs.
Hardware-mounted gates:
Attach "permanently" to a particular location (although you can remove them and fill the screw holes when the baby grows up).

Are usually harder to knock down.

Come in sizes that fit most doorways, although adapters might be required for wider spaces.

Require more effort to install.

Usually feature one-handed operation.

Are appropriate for use at the top of stairs.
Door and Drawer Latches Any door or drawer that can be opened is an invitation for a curious child to explore. There are a wide variety of latches that require adult dexterity to open, keeping children out while allowing parents to access the space. Some are plastic, others are metal or magnetic.
Look for latches that are easy for an adult to operate: The goal is to keep baby out, not to make it difficult for a grown-up to get to a coffee cup. If safety latches make normal household operations too frustrating, you will be more likely to forego them, and that will leave your child in danger.
Do not limit your use of safety latches to lower cabinets. A toddler quickly learns to climb, and a chair pushed up to a counter gives easy access to higher areas.
Liquor, medicine, cleaning solutions, household chemicals and other dangerous materials should be kept in the highest cabinet available. Secure it with a small padlock or combination lock, not just a safety latch.
If possible, install drawers so they must be lifted up to be completely removed. That way, baby cannot pull the drawer and its contents down onto his or her head.
Outlet Covers


Keep little fingers out of sockets with plug covers.
Safety plugs that keep outlets free of wandering fingers are fine when baby is just learning to crawl. As children get older, though, their dexterity improves, and they can pry the plugs out of the sockets.
Install outlet plates with built-in safety covers that rotate to block the socket when there is nothing plugged into it. Some also have a feature that prevent a child from unplugging anything that is plugged in.
Keep all cords as short as possible, and use furniture to block access to them. If your favorite lamp sits six inches from a plug and sports a 6-foot cord, use a plastic cord winder to keep the excess in check. This helps with chewing-prone pets as well as toddlers.
Gates, latches and outlet covers are needed throughout the house to keep your baby safe. In addition to these, each room has its own particular safety needs.
In the Kitchen One of the first places an inquisitive toddler might try to explore is the refrigerator. Adults open it many times a day and bring out yummy treats, so of course it is a place that would attract a child's attention.
Special latches are available to secure doors on refrigerator - as well as on other appliances such as ovens and trash compactors.

Good idea: On the outside of the refrigerator, keep magnets to a minimum, as they can fall onto the floor and become a tempting choking hazard.



Prevent a toddler from turning on the stove with covers for the knobs.
Use appliance knob covers to prevent children from turning on the stove burners.

Use small appliances only with the cords that are attached, not with extension cords that can hang down from the counter for yanking or chewing.

Secure pet food in tightly closed containers. The food will stay fresher, and your baby will not be able to taste-test the kibble. Plastic storage tubs hold the contents of a large bag of food and make it easy to scoop out for serving.
In Living and Working Areas
Ever bumped your leg on the corner of the coffee table hard enough to bring tears to your eyes? Now imagine the same bump, this time on your child's forehead. Every edge, every corner is an accident waiting to happen, particularly when children are just learning to walk and not steady on their feet.

Your fireplace may be warm and inviting, but the hearth can be dangerous to little ones without proper padding.
Buy corner guards and edge guards to provide padding. Look for special items that cover the edges of hearths.

Make sure glass tabletops are shatterproof and have smoothed and rounded edges.

Use furniture straps to anchor bookshelves, entertainment centres and other tall, heavy furniture to the walls. Children can climb up any of these pieces (particularly those with drawers) and pull them down on top of themselves.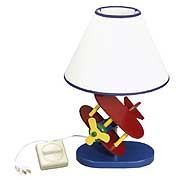 Cord keepers remove the temptation to tug and chew.
Older mini-blinds and other window treatments may have unsafe pull cords that can strangle a child who gets tangled in them. Safe window treatments have two or more individual control cords, not those that loop or attach to one another. Some blinds have safe, loose connectors that keep the cords together but will break away to prevent entrapment. Do not tie the individual cords together tightly - that defeats the purpose of the safety feature.
Solutions for older, unsafe blinds:
Small attachments that keep the cords wound up.
Newer window treatments, which use cords that do not create a dangerous loop.
Blinds that raise and lower without any cords at all.
Double-paned windows with the blinds enclosed between the glass.
Install key locks on windows. These make it harder for a climbing child to open the window, as well as making it harder for a burglar to get inside.
If you have older windows that will not stay up when they are opened, do not prop them with something that could easily be knocked out of place. Keep them closed and locked at all times until you can repair them or replace them with the non-finger-crushing variety.
To keep little ones from wandering into off-limits rooms, use special plastic covers that make doorknobs too big and slippery for little hands but allow adults to squeeze two buttons and turn to open the door.

Good idea: A diaper pail should be both latched and kept in a secure spot, for the safety of both children and pets.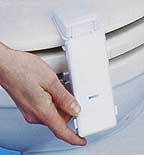 Lock toilet lids shut. A child can drown in only a few inches of water.
In the Bathroom Keep toilet lids closed and secured with latches designed just for that purpose. A baby can drown in only a few inches of water, and children have died from tripping and falling headfirst into the commode. A closed lid also keeps children from flushing toys and other items into the toilet - wreaking havoc with plumbing.
Other Ideas:
Use a soft shield around the bathtub faucet to keep baby's head safe from bumps during bath time.

Use a cover on the hot water tap to prevent children from turning it on and burning themselves.

Use non-slip appliqués on the bottom of the tub so little people (and big people) will not fall. Keep a large, soft bathmat (with a no-slip back) on the floor to cushion any falls outside the tub.

Good idea: Keep the hot water heater set at no more than 120° F to help prevent accidental scalding and save energy.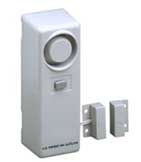 Use an alarm on your pool gate to alert you if someone enters the area.
Around the Pool Make sure the swimming pool is fenced securely on all four sides, tall enough to discourage climbers.Use a heavy-duty padlock or combination lock placed high enough up the gate that only adults can gain access.
For added protection, install an alarm that sounds when the door is opened. Check with local authorities, as well as your insurance company, about specific pool security regulations in your area. Alarms are required by local code in some areas.
You can also use an outdoor security camera to keep your pool area in your sights at all times. Make sure the lighting is sufficient for the camera to pick up a clean image.